Hey Bec,
Love your new start-up page! (the boy-hood Snape is a little chubby!)
Really I almost spit out my coffee
choking in laughter!!! Very Funny to find him on The Snape Escape too!

You need to somehow share that e-mail with everyone here,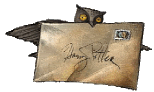 I get alot of joke forwards but this one is by far the BEST!! I will save it for when I need an extra laugh.
(see everyone else here is wondering what.................)