So I'm home from work today, not because I'm sick but because my dog is!

I woke up this morning to make coffee and pack

lunch as usual and I smelled a horible smell in the hallway. I turned on the hall light

and saw dog poop all over the carpet!

Not just regular dog poop but running wet diahrea! I side steped it to the kitchen and found more and more in the living room and dining room and bathroom!
I wiped/mopped up what I could and put the dog out.

got a deer yesterday and I asked if he had Pickles outside while cleaning the deer, He said yes, but Pickles didn't eat anything maybe just licked some blood. Some blood! This dog does even get table scraps, his 7 lb body can't take it. Gahhhh!
No wonder he was sick all night!

So I just stayed home to clean.

I just finished spray cleaning and scrubbing all the carpets with that stupid foam-then-vacuum

stuff you don't get much out of a can of that! Then I cleaned his kennel which he also had to go in! AND gave him a bath. My hands are raw from scrubbing.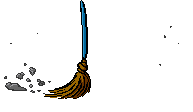 So now that I'm on a roll, I'm going to eat something then continue with some good pre-holiday cleaning. I hate putting up decorations (this coming weekend) with dusty dirty house to work around.
Well that felt good to vent!


I think that I'm going to put on some Christmas tunes while I clean.